STAINLESS STEEL HIGH GLOSS POLISHED BOX LETTERS WITH LED LIGHTING.
YACHT TYPE: SUNSEEKER | LENGTH 17.4 METERS | ASSIGNMENT: REBRANDING

WHITE PEARL – Sunseeker Yacht
For a customer of ours, we have provided this Sunseeker with stainless steel high-gloss polished channel letters with LED lighting.
We carried out the assembly in the home port of Sarzana in Northern Italy. We have removed the old name, closed the old holes with polyester and polished. Then mounted the new letters with a mold.
We not only limit ourselves to assembly work within the Netherlands, but also in Europe and even far beyond. We have now been able to provide several Sunseekers with boat lettering, but for privacy reasons we are not allowed to share everything on various social media channels. We therefore respect the wishes of our customer.
EXTERNAL MOUNTING SYSTEM
Our (Male / female) external mounting system ensures that too outside lettering on the outside of the yacht can be fitted without access to the interior.
Of course, we can supply any mounting method you are familiar with, whether you want to use cable glands, bushings, pins and threaded pins.
If desired, we also have the option of designing the backs so that they are perfectly match the curvature of the superstructureof the yacht.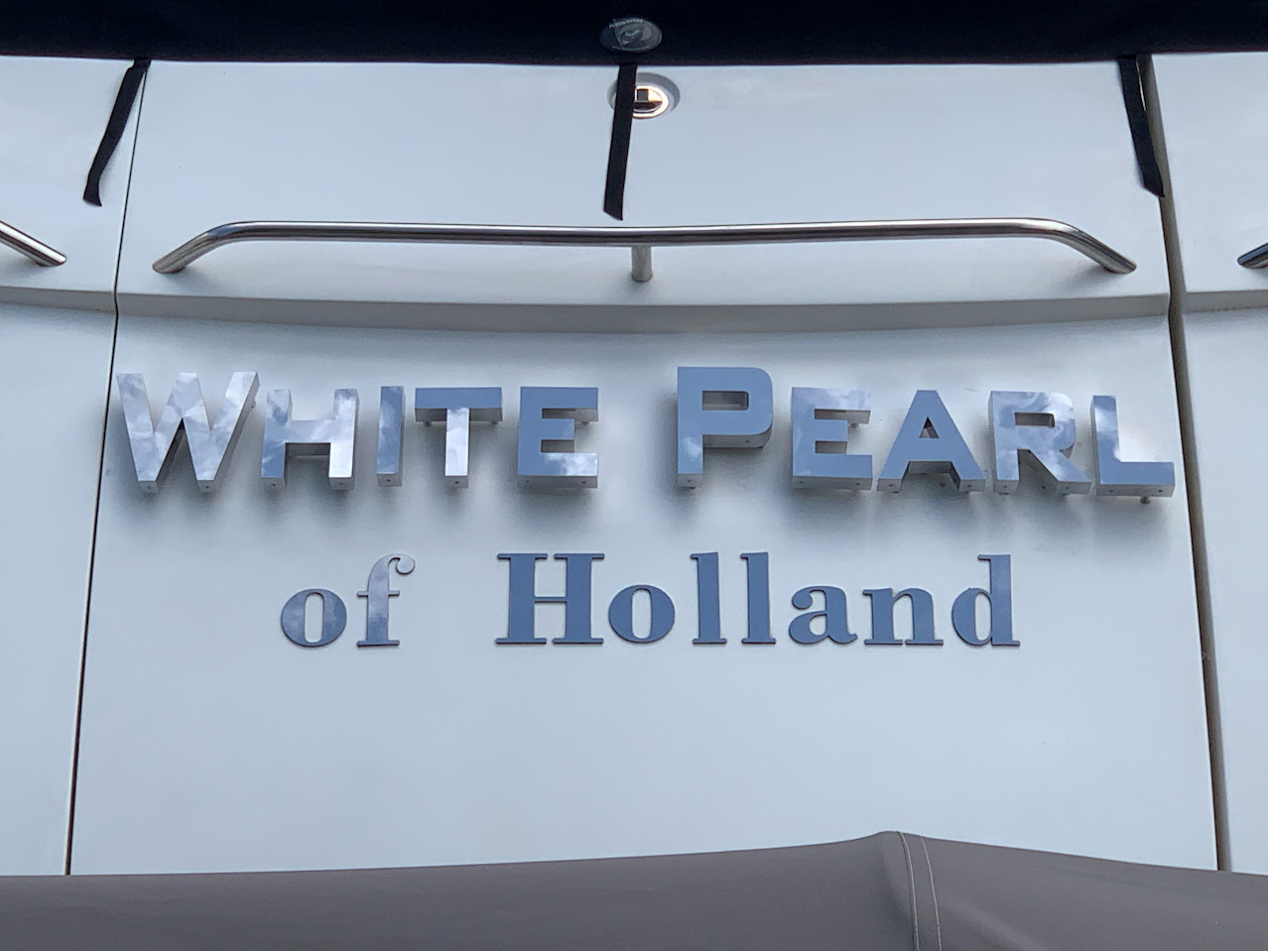 OUR SHIP LETTERING SYSTEMS
Whether it is an LED signage or a fiber optic signage, our lettering and lighting systems for yachts are designed and developed to survive in the marine environment. Our yacht LED signage has 'energy saving' and 'ease of installation' qualities, while our fiber optic system is very safe and does not emit any external electricity or heat.
Our systems are compatible with 12 V DC and 24 V DC, with European and American mains power supplies. All our enlightened ship lettering boards come standard with a thick acrylic protective layer where the relevant light source resides. This acrylic backing can be 'Flush', 'Beveled' or 'Inset'. Backings can also be thickened to suit your aesthetic requirements.